Become part of the Copernicus Accelerator
The Copernicus Accelerator is looking for new entrepreneurs to take their business to the next level! Your business idea involves the use of Copernicus data or services? Then the Copernicus Accelerator is the right tool for you to turn your ideas into reality thanks to a customised business development scheme for Earth observation entrepreneurs!
In 2018, there are three ways to access the Copernicus Accelerator programme: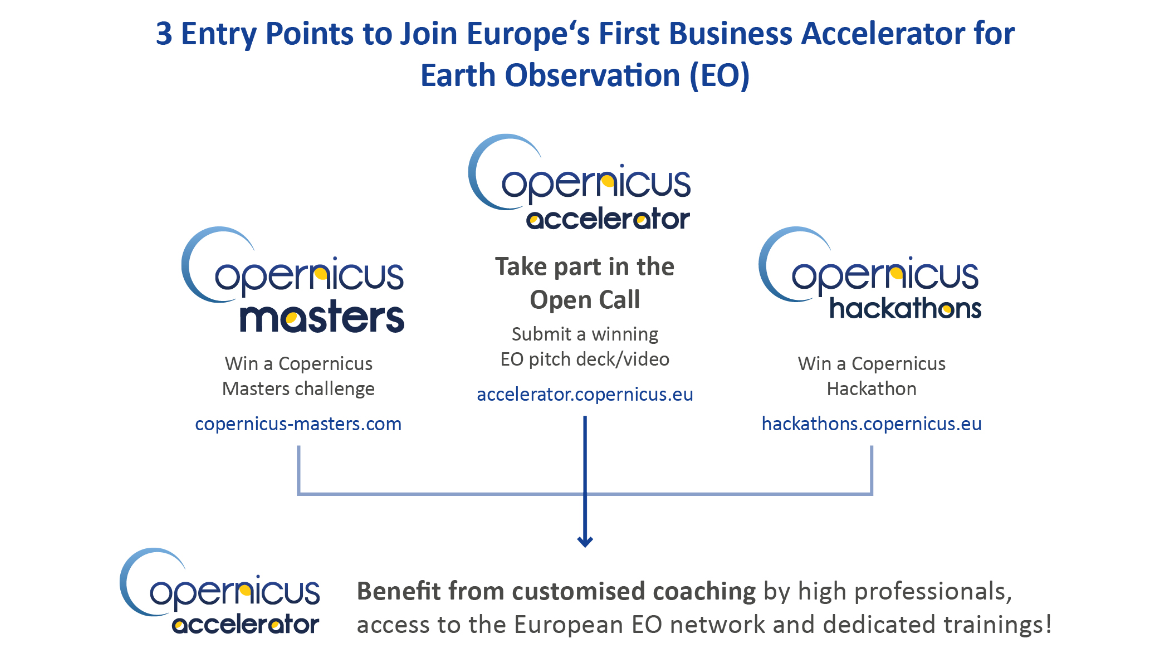 Copernicus Accelerator
The Copernicus Accelerator offers a customised business development scheme for 50 visionary start-ups and entrepreneurs from Copernicus Participating Countries (EU, Norway and Iceland). These 50 candidates all have in common that they develop innovative ideas which are tackling societal challenges by using Earth observation (EO) data, especially from Copernicus.
Since 2016, the programme supports the Accelerator candidates to move beyond idea conception into real commercial ventures. Each year, selected participants are matched with high-level professionals and benefit from individual mentoring alongside further training opportunities such as bootcamps and webinars and dedicated marketing support.
The Copernicus Accelerator is a project of the European Commission's DG Growth, and is part of the Copernicus Start-up Programme, which is designed to accompany start-ups from the generation of a business idea to its full commercialisation.
Entry points to the Copernicus Accelerator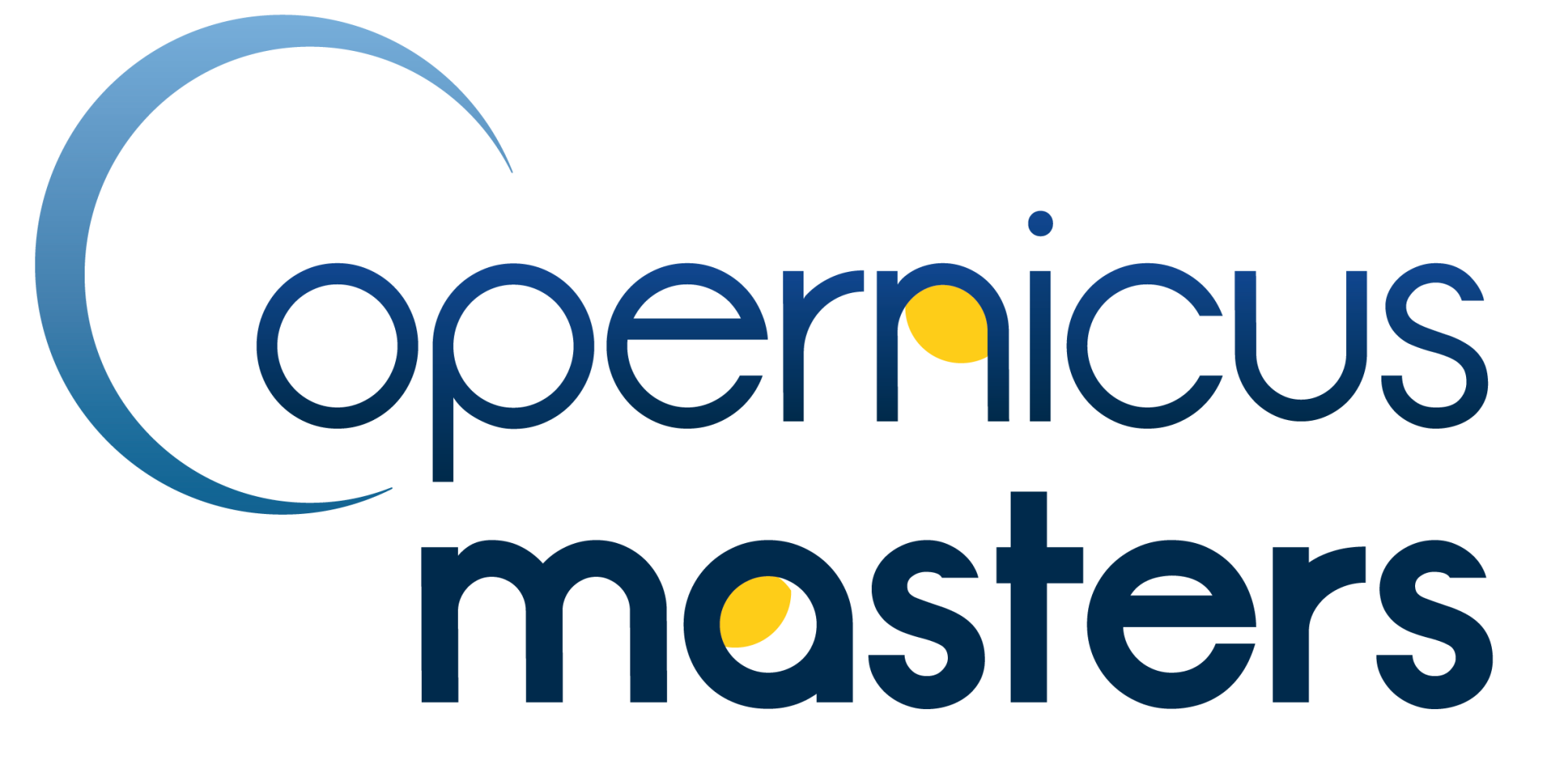 All winners of each of the 16 Copernicus Masters Challenges 2018 have been automatically selected as participants of the Copernicus Accelerator 2018, if the winners came from Copernicus Participating Countries. The submission phase of the world's largest innovation competition for Earth observation-related business ideas and its challenges ended on 30 June 2018.
Now closed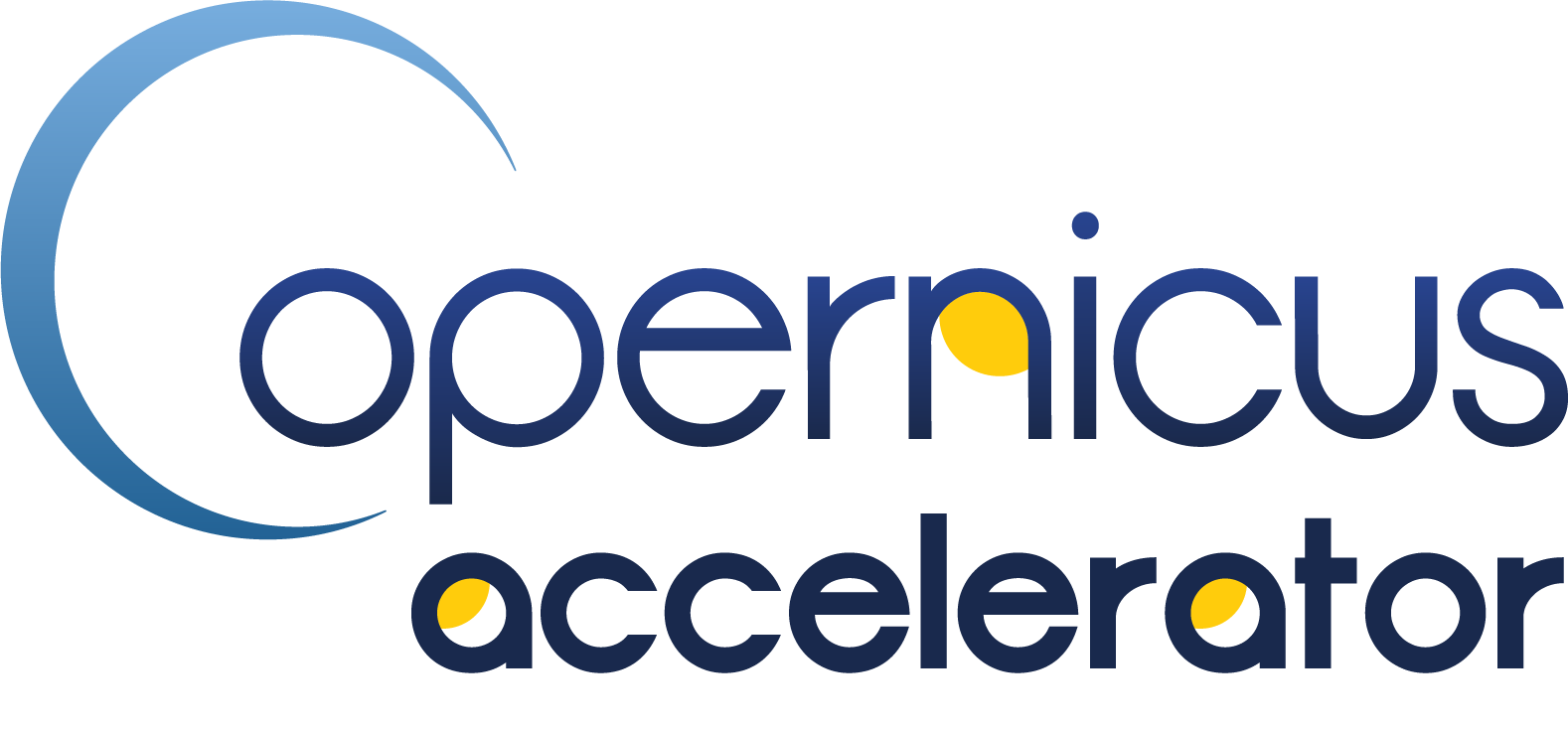 Fifty start-ups have been selected to participate in Copernicus Accelerator. The 10-month programme kicked-off with a Bootcamp at the EU Space Week in Marseille, 3-4 December 2018. During the Bootcamp, participants were introduced to their mentors as well as participated in a range of activities, including coaching sessions, roundtables, business speed dating, networking activities, and pitching sessions. Find out more about the programme here.
Open Call now closed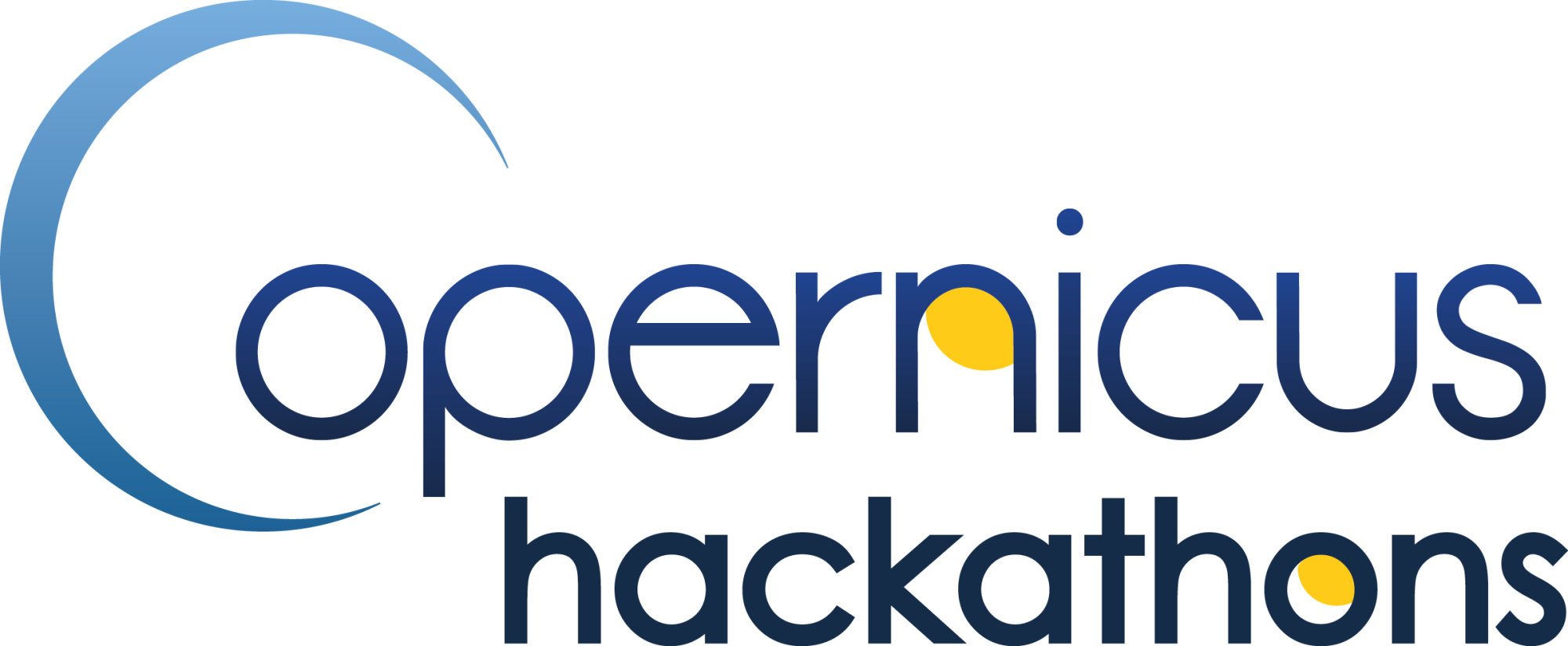 Up to 10 Copernicus Hackathon winners will get the chance to enter the 2019 Copernicus Accelerator. Find out more about the brand new element of the European Commission's Copernicus Start-up Programme here.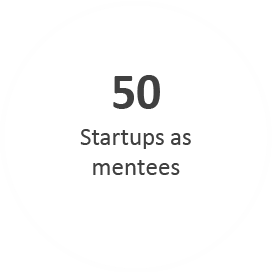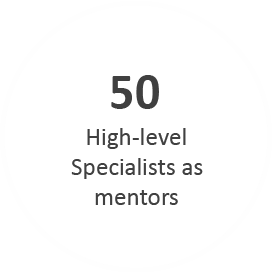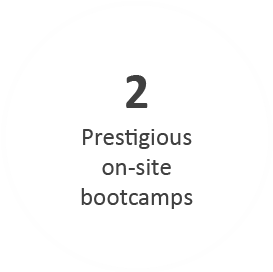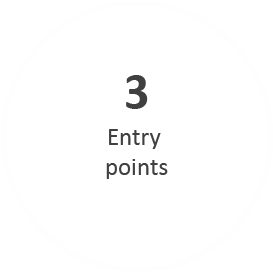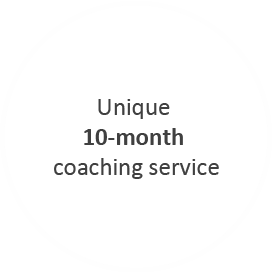 The Copernicus Accelerator has different phases comprising business development support of approximately 10 months.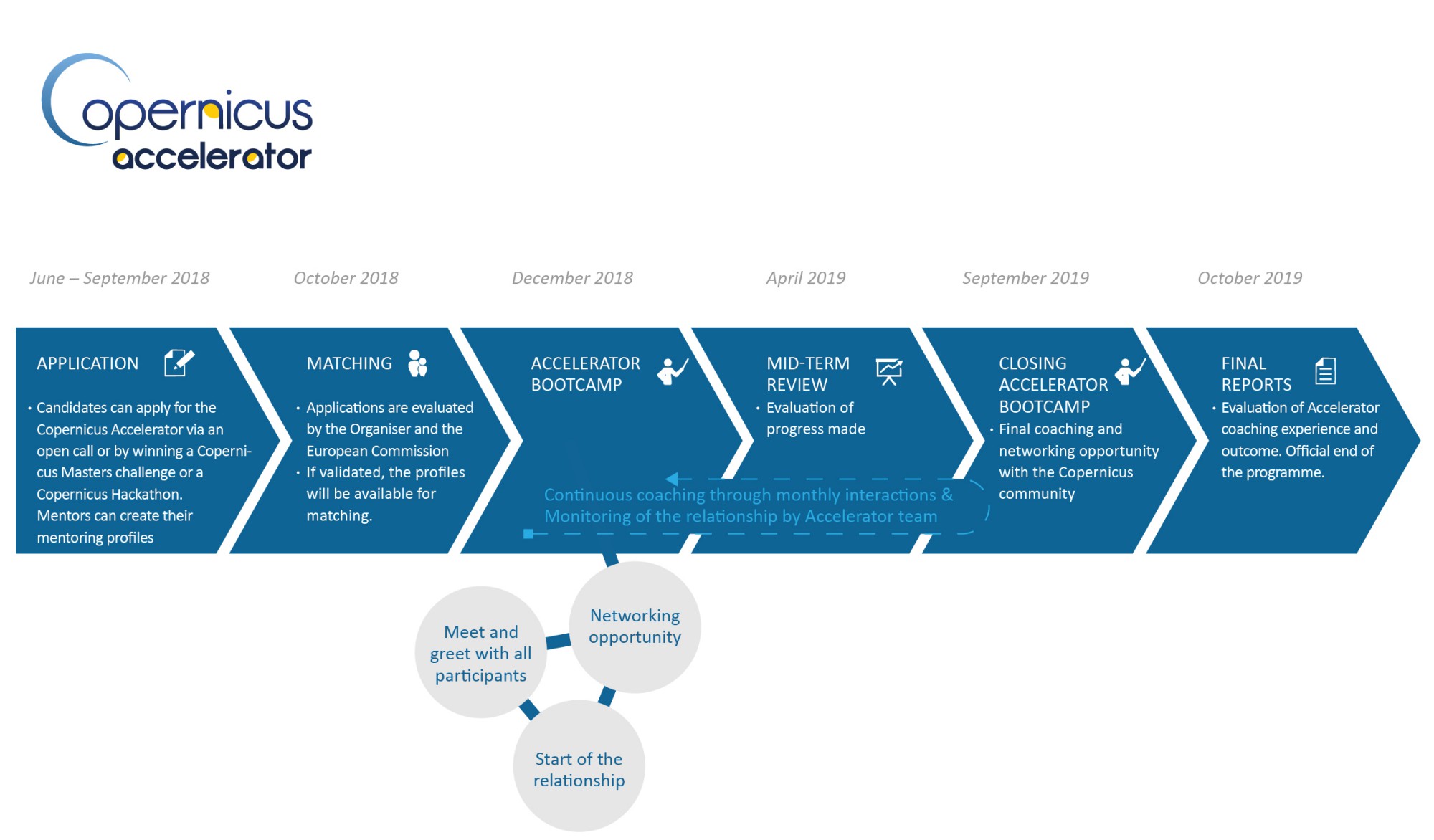 The mentees selected via the Open Call, the Copernicus Masters winners, and the Copernicus Hackathons were matched with their selected mentors at the end of October 2018. After initial virtual exchange and drafting of the mentoring objectives, the formal start of the Accelerator programme then took place at the Copernicus Accelerator Bootcamp on 3-4 December 2018 held in line with the Copernicus Masters Awards Ceremony during the EU Space Week in Marseille, France. After 10 months of individual coaching, accompanied by webinars, newsletters and support from the Copernicus Accelerator team, all mentees and mentors will then meet again at the official Copernicus Accelerator Closing Bootcamp in September 2019 at the INTERGEO in Stuttgart.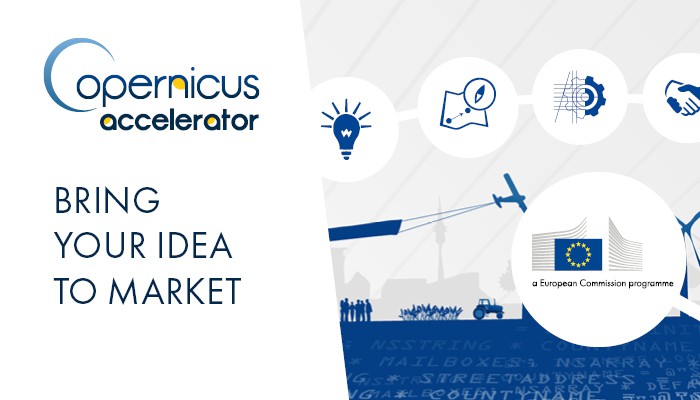 With their profound knowledge and expertise, mentors support the participants to turn their promising ideas into reality and to successfully enter the market, achieving measurable results in one or more of the following objectives:
Integration into an incubator
Obtaining their first client
Raising equity funding (angel, seed or venture capital)
Reaching profitability level with their first product
Development of a new product line
First access to a foreign market (internationalisation)
Business coaching
Assistance in technical development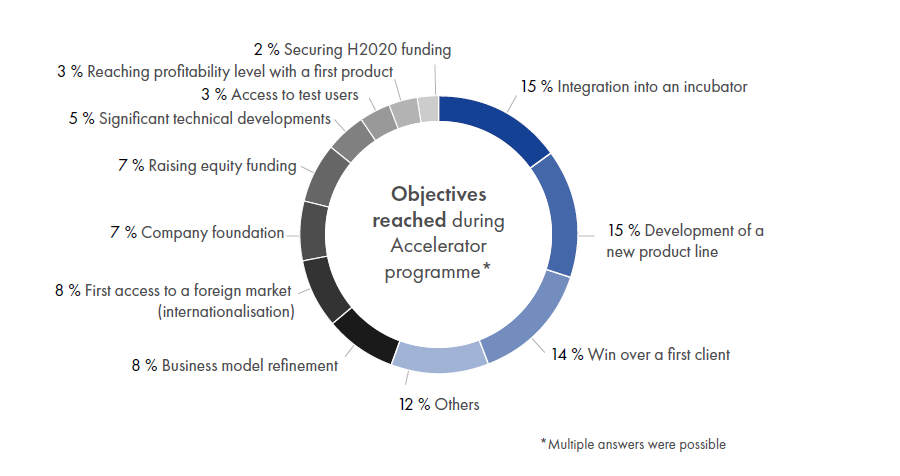 Webinars
In addition to the support by the mentor, mentees also benefit from exclusive webinars in which they are provided with approximately 1-hour training on either a technical or a business topic.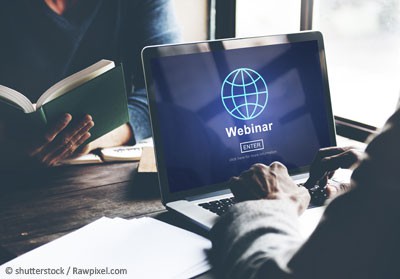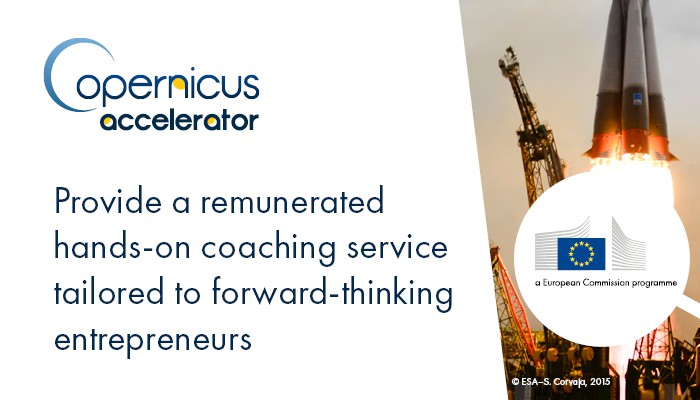 Interested in becoming a mentor?
Scroll down to sign up for the Copernicus Accelerator newsletter and be the first to get informed about the next application phase! Selected mentors are expected to deliver individual coaching services worth EUR 6,500 (incl. travel costs to attend two bootcamps) to their mentee and will benefit from:
Scouting for innovative entrepreneurs and start-ups at an early stage
Networking with the prestigious Copernicus Accelerator community
Promotion among the international Earth observation community
Invitation to two ambitious Bootcamps in line with extensive networking opportunities
The eligibility criteria to become a mentor are:
Employed with a legal identity registered in the territory of one of the Copernicus Participating Countries, whose business purpose is focused on business consulting, e.g. business incubation centres, consulting companies, business intermediaries, university-based start-up centres, innovation agencies etc.
Individual mentors that reside in the territory of one of the Copernicus Participating Countries, with a proven track record of customers (preferably start-ups) that they have mentored in their chosen field of expertise.
Mentors are also required to demonstrate experience in business coaching, or in the Earth observation, ICT, mobile industry areas, or in one or more topics of interest connected with the Copernicus Masters Challenges. This experience could be based on their own professional career or references from previous mentees.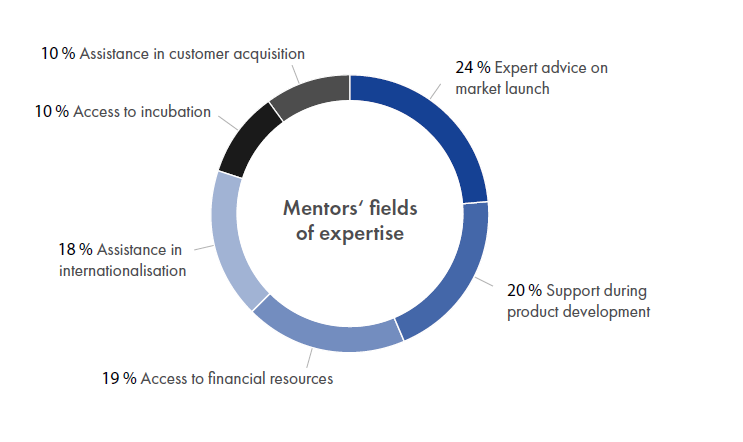 Eligible applicants will only become mentors after they have been selected by one mentee. Once selected the mentors are expected to provide their mentee with customised business development services worth EUR 6,500 (incl. travel cost to attend two bootcamps) that will be remunerated at the end of the programme.
ABOUT COPERNICUS
Copernicus is the European Union's Earth Observation Programme, looking at our planet and its environment for the ultimate benefit of the European citizens and everyone around the world. The programme has a full, free and open data policy. Which means that you can develop applications using Copernicus data, as many have already done.
Want to find out more?
Read How Earth Observation became Europe's "Silicon Valley"
or Copernicus at your fingertips: 20 apps that you can use today
You can find all relevant updates, events and further background information about Copernicus on the official Copernicus Website.
A PROJECT OF THE EUROPEAN COMMISSION – DG GROWTH
The Copernicus Accelerator Programme is an initiative funded by the Directorate-General for Internal Market, Industry, Entrepreneurship and SMEs (DG GROWTH) of the European Commission. The DG GROWTH is responsible for: completing the Internal Market for goods and services; helping turn the EU into a smart, sustainable, and inclusive economy by implementing the industrial and sectorial policies of the flagship Europe 2020 initiative; fostering entrepreneurship and growth by reducing the administrative burden on small businesses; facilitating access to funding for small and medium-sized enterprises (SMEs); and supporting access to global markets for EU companies. All of these actions are encapsulated in the Small Business Act; generating policy on the protection and enforcement of industrial property rights, coordinating the EU's position and negotiations in the international intellectual property rights (IPR) system, and assisting innovators on using IP rights effectively; and implementing the EU's space policy via its two large-scale satellite programmes Copernicus (for Earth observation) and Galileo (for global navigation), as well as research actions designed to spur technological innovation and economic growth. http://ec.europa.eu/growth/about-us/index_en.html